Compost Bin
A place into which to sift your final compost
This bin is to be used in conjunction with one or two composters.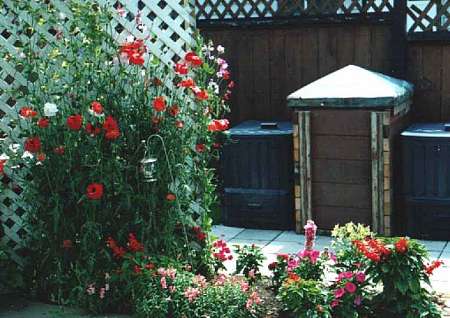 This is the compost work area in our garden.
Compost is put into the one of the compost boxes until it is full.
We then use the other compost box until it fills.
By then the first box is ready to sift into the center bin.
The lid is removed revealing a sifter.
When the compost is all sifted it stays in the bin
until it is needed.
The front boards of the bin are loose making retrieval of
finished compost easy.
From the time I set up this system
people have expressed an interest
in it so I decided to put the design
on this page.
I have made some improvements
for ease of assembly.
To download the plans click here and press print on your browser.
6 pages in all.
DOWNLOAD